Discover the 'Suite Investment,' a unique upgrade to the ordinary studio unit
Pasay City is one of the most competitive cities in the country and a hotspot destination for international tourists, as well as locals, positioning Pasay City as the most sought-after location for both investors and homeowners.
Global real estate developer, Golden Topper, redefines the Pasay City skyline with La Vida — A residential condominium envisioned to be a "gamechanger" in the world of condo living. Golden Topper unveiled its newest offering at La Vida, Studio Suites, at its launch event held last April 23, 2022 at Tryp by Wyndham MOA.
In attendance were the company's most valuable clients and esteemed guests, namely Mr. Allan Crisologo – President, Group of Companies; Mr. Shanyou Zhang – The Shareholders representative from Golden Topper China; Mr. Yang Fang – Group Operations Coordinator, Ms. Angela Solon – Director, Government Rel. & Corporate Structuring Deputy of the GT Group of Companies; and Mr. Clyde Cipriano – HR Director.
Every homeowner deserves more than the ordinary
Golden Topper recently launched its newest offering La Vida Studio Suites, as a unique upgrade to the ordinary studio unit.
Deemed as the "Suite Investment", Project Development Officer Marvin Faustino said the Studio Suite at La Vida is the most outstanding product in the market with its 37.8-sqm. space, making it larger than the ordinary or common studio unit in Pasay City.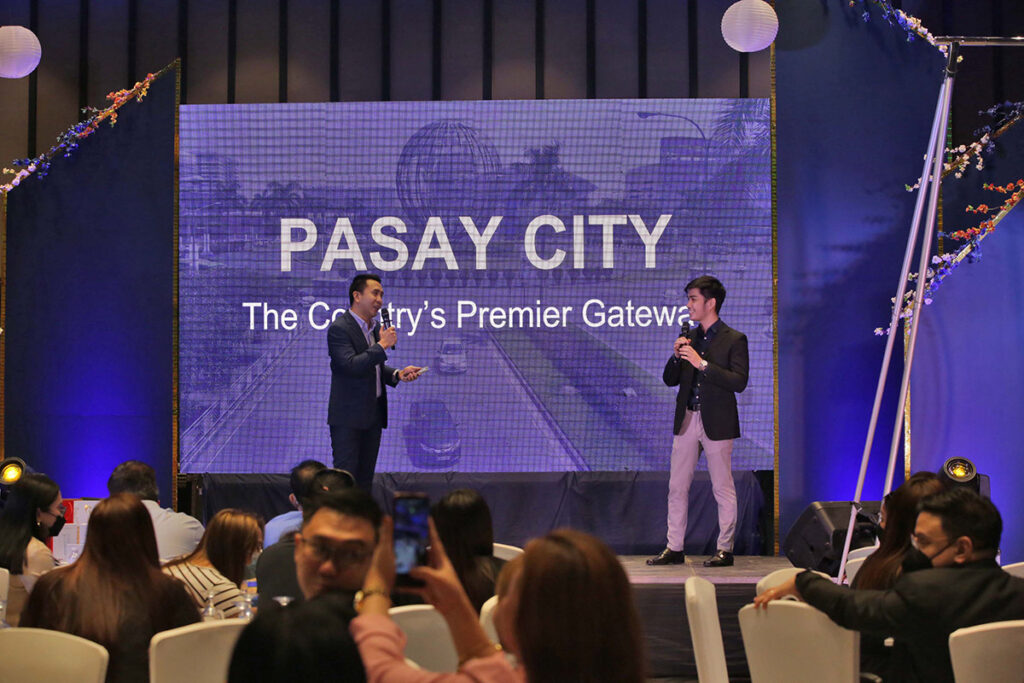 Project Development Officer Marvin Faustino and Sales Training Manager Mark Tonio discussed the unique highlights and features of the La Vida Studio Suites.
"Golden Topper not only focuses on developing communities. We also aim to create better communities and elevate the lifestyle of our clients," Faustino said, "And, of course, to provide them the best investment of their hard-earned money, to provide them with better living options—and the most important thing is— to provide them the value that they've always wanted and deserved."
Studio Suites at La Vida are convertible to have a One Bedroom or Two Bedroom layout after unit turnover, creating well-defined areas inside the unit. With this unique upgrade, unit owners can enjoy their much-needed privacy as well as the freedom to customize their living spaces.
Should the unit owner decide to upgrade their unit, "the company will shoulder the additional costs in the construction of the different unit partitions," said Golden Topper Sales Training Manager Mark Tonio.
"We are happy to let you know that this comes for free or without any additional costs. You can get that upgrade," Tonio emphasized.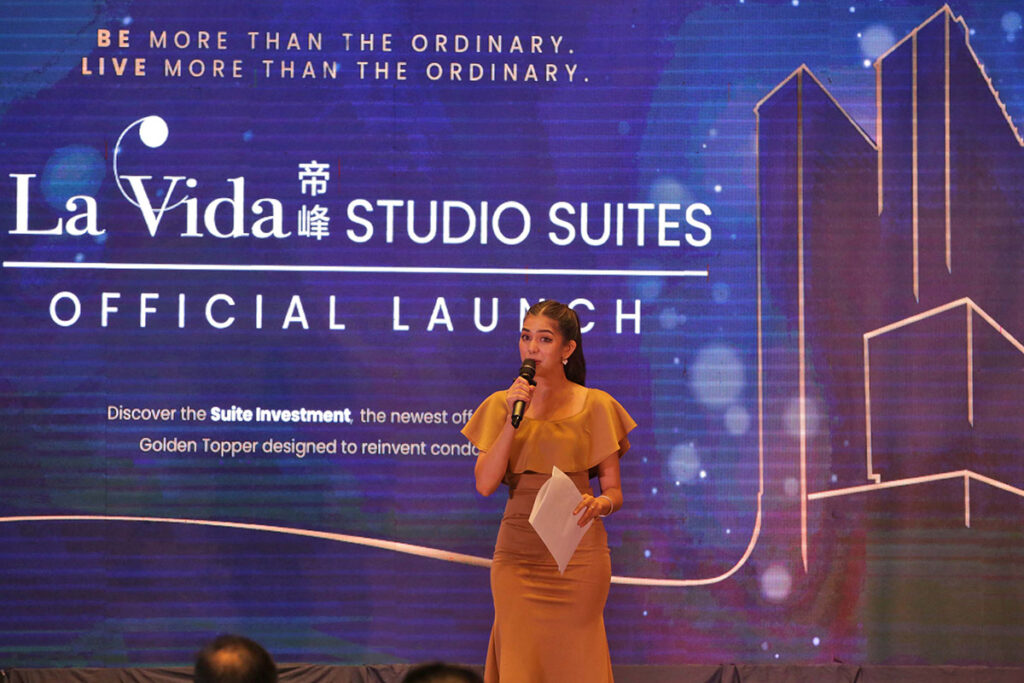 Hosted by Miss World 2021 candidate Joy Barcoma, the La Vida Studio Suites launch event welcomed beloved clients and dear partners of Golden Topper
He also stressed that Studio Suites are perfect for the different life stages—whether you are a bachelor, a married couple or someone who is planning to start a family.
"I really believe that everyone deserves something better. Everyone deserves something bigger, something more than the ordinary," Tonio said.
Making condo living an attainable luxury for every homeowner and investor, Studio Suites at La Vida can be paid monthly starting at P18,000.00 with no spot down payment and stretched payment terms.
A gamechanger rising in the Pasay City skyline
La Vida is the only residential condominium to offer the (Upgradeable Studio Unit) Studio Suite. Golden Topper's vision of creating more than the ordinary living spaces is brought to life by La Vida's offerings, which also features Small Office Home Office (SOHO) units.
La Vida's SOHO units are loft-type units, with a main floor intended as an office, and a loft floor as a living space. Tonio said "We really wanted to give homeowners the opportunity to live closer to their dreams, whether you're a lawyer who dreams of having a law firm, an artist who wants to have their own studio, or a young CEO committed to building their own enterprise."
Traversed by major road networks, La Vida has access to business districts and premier lifestyle destinations, such as shopping malls and gaming districts.
The features include residential, retail, office space, leisure, and amenities such as lap pool, kiddie pool, fitness area with yoga room, jogging trail, gazebo, children's playroom, lounge, and library, and function room.
Building better cities, creating better lives
Golden Topper is a fast-emerging group of real estate corporations developing prime real estate projects across the Philippines. It aims to elevate the real estate landscape with world-class structures built by local and international experts in property development.
It was in 2017 when Golden Topper branched out to the Philippines through its subsidiary corporations, setting its sights on developing the country's two regions—Luzon and Visayas.
Roy Receno, Project Development Manager of Golden Topper said that the group of companies is also set to provide a wider range of residential developments, property management services, construction, and logistics in the future as a holistic approach to property development.
"We hope that you will be on board with us in this endeavor as we move in decades to come developing better cities and better lives for more Filipinos," Receno enthused.
Other projects
In Cebu, Golden Topper has two property development projects named City Clou and El Sol, as well as an upcoming project in Las Piñas called Park One.
City Clou is Cebu City's first-ever Community Business District, combining residential, office, commercial, and leisure facilities in one vibrant community.
El Sol is Golden Topper's newest destination boutique residence set to rise in Mactan, Cebu.
Located in Las Piñas, Park One project's prime location grants residents' seamless access to the Alabang and Bay Area business districts, as well as known leisure destinations in the south.
Go back to news & Updates